10nov10:00 am11:30 amFall Webinar: Behavior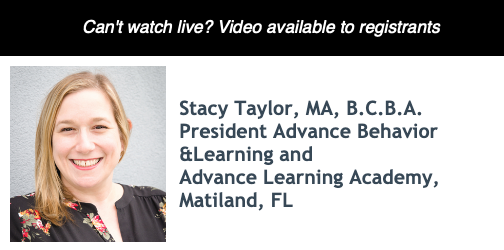 Event Details

Community Connections & Arkansas Down Syndrome Association are partnering to bring you a Fall Webinar on Behavior with nationally renowned speaker Stacy Taylor, MA, B.C.B.A. and Presidential/Clinical Director of Advance Behavior and Learning

Stacy's Bio

Stacy Taylor received her Bachelor's degree in psychology from Rollins College and completed her Masters degree in Education at the University of Central Florida. She is a Board Certified Behavior Analyst.

For over 20 years, she has worked as an early interventionist, educator and behavior analyst providing services to people with developmental disabilities and learning/behavioral challenges. She has served as director for 3 clinical programs and currently owns and operates an Applied Behavior Analysis program, Advance Behavior & Learning, and a fully inclusive 21st century private school, Advance Learning Academy in Central Florida. Mrs. Taylor has worked in a variety of settings including clinics, schools, and homes. In addition to providing 1:1 treatment to children, she has also provided training and consultation to parents, teachers, therapists, physicians, and agencies. She has spoken at numerous conferences across the country on early intervention, education and behavioral treatment. Mrs. Taylor served as a member and chair on the board of directors for the Down Syndrome Association of Central Florida. She also enjoys teaching college level courses to help students learn more about inclusion, learning, child development, and behavior and her programs provide an internship and practicum site to give students a start in the field and real-world experience.
Virtual Behavior Clinic
Having a behavior issue?
Our upcoming behavior webinar features Stacy Taylor of Advance Behavior and Learning- she and her team are offering their services thru a Virtual Behavior Clinic on Friday Nov. 13 & Saturday Nov. 14 from 8am-6pm
Sessions last an hour and cost $100.
ADSA is offering a limited amount of scholarships to AR families!! Sign up on the form and send us an email if you're interested in a scholarship.
contact@ardownsyndrome.org

Time

(Tuesday) 10:00 am - 11:30 am