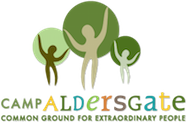 Today, Camp Aldersgate continues its dedication to providing year-round social service programs for over 1,700 individuals of all ages and backgrounds. During the summer months, Camp hosts week-long medical-specific camps for children and youth with the following medical conditions: muscular dystrophy, spina bifida, diabetes, cardiac conditions, arthritis, kidney conditions, asthma, oncology, and bleeding disorders. In addition to the medical camps, Camp host two Kota Camps to serve children and youth with special needs that are not covered under the Summer Medical Camps. Kota Camps allow our participants to bring a friend or sibling to camp with them to participate in the programs and activities.
While the Summer Medical Camps are only provided from June to August, Weekend Camps are provided for individuals from August to May. They are offered twice a month for children and youth with special needs. Weekend Camps are separated into three different trails. Each trail is geared toward each camper's strengths and needs.
Camp Aldersgate also houses Seniors Day Out programs once a week from August to May. Each Thursday, senior adults from central Arkansas come together to enjoy fellowship, arts and crafts, exercise, lunch and other programs. Camp serves about 60 senior adults a week.
Visit Online