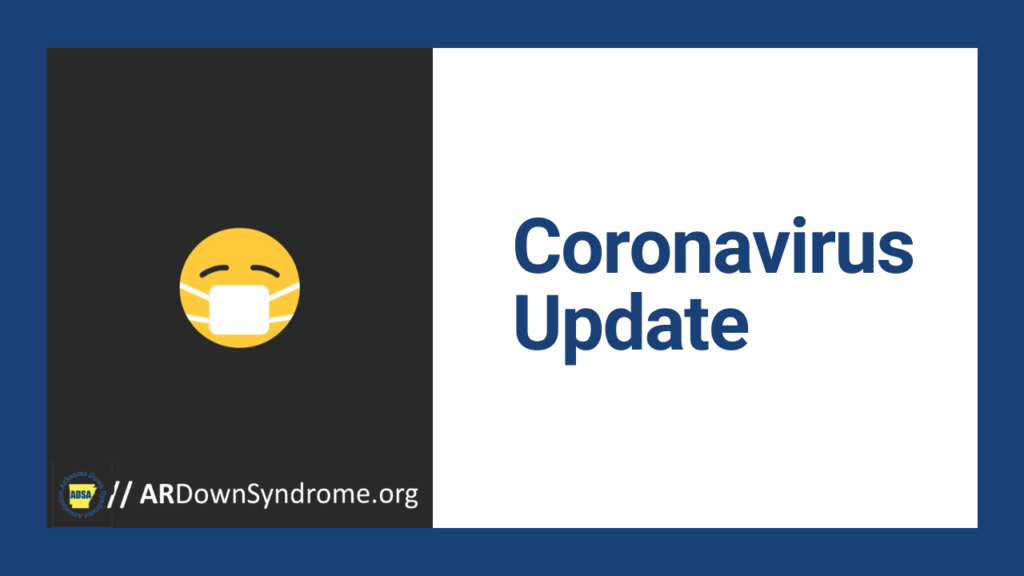 Dear Friends of Arkansas Down Syndrome Association,
After careful consideration and discussion with health professionals, the Board of Directors for Arkansas Down Syndrome Association (ADSA) has made the difficult decision to postpone our 15th Annual Gettin' Down for Down Syndrome Dance at Sherwood Forrest on Saturday, March 21, 2020 due to risks associated with the COVID-19 Pandemic. We will also postpone the planned WDSD Glow Walk scheduled for evening of March 21 at Two Rivers Bridge.

Our decision to postpone our largest event was not taken lightly. It was made after closely monitoring updates and recommendations from the Arkansas Department of Public Health and Centers for Disease Control and Prevention (CDC) to limit large social gatherings.

Although we are all incredibly disappointed about this news, ultimately, our top priority, at our annual Getting' Down for Down Syndrome Dance and all ADSA events and gatherings, must be our guests' and participants' health and safety.

ADSA Board of Directors will be closely monitoring the situation as it continues to unfold and explore possible dates to hold the dance later this year. If you've already registered for the Dance we will keep your registration (and t-shirt orders) open pending reschedule date. Watch for an email and Facebook post with the new date.

This is a first for us. We truly appreciate your patience, support and understanding as we work to respond, responsibly, to this emerging public health crisis.
If you have questions, please contact us at contact@ardownsyndrome.org.
For additional information on COVID-19 please the CDC's website at www.cdc.gov, and the Arkansas Department of Health website at https://www.healthy.arkansas.gov